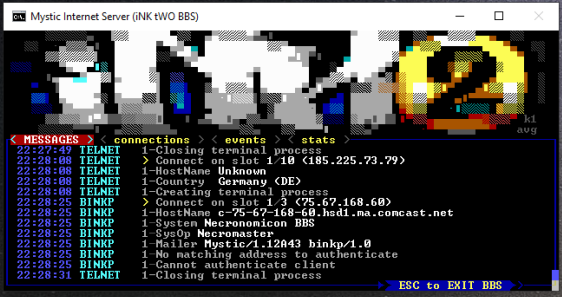 Welcome to the official website of
Ink Two BBS
. Today is and it's a good time to be telneting to one of the sweetest looking bulletin boards in the Underground Scene.
Ink Two BBS
is located in the heart of Covina, California and run by
Lawrence Manuel
(aka Smooth). We're running the latest version of
Mystic BBS Software
(version v1.12 a48). It's one of the most robust telnet-capable Bulletin Board Systems developed by
James Coyle
.

It wasn't till mid 2013 after my son Gabriel was born that I launched
Ink 2 BBS
. This new Bulletin Board System is housed in an HP Intel Core Duo (I3) computer running a 32bit version of Windows 10. I decided to run
Mystic Bulletin Board Software
as it was one of the more popular packages that sysops were running and had one of the most robust and user-friendly feature sets. This would allow endless possiblities in customization and expandiblity. Mystic BBS software has continually evolved throughout the past years and the BBS community has grown because of it.
It's currently running on a blazing fast fiber internet connection provided by
Frontier Communications
with a total storage capacity of 3 terabytes. There are many door games to play and several message networks available to join online discussions.